Enhance Your Team's Well-Being with this 1-Hour Online Experience.
Nourish your body
&
Reset your mind
Offer Your Employees a Fun and All-Inclusive Team-Building Event.
(頭大文字でもどちらでもOK)
Why should you sign up?

Well-Being
Well-being helps improve employees' performance.

Team-Bonding
First, connect with yourself by meditating and then connect with others by sharing your feelings and emotions.
Connect with yourself deeply by meditating and connecting with others by sharing feelings and emotions.

Inclusive
Everyone can relate to it because eating is essential to life.
Why Do Participants Enjoy It?
Improving the quality of life
Eating and meditation are both excellent and enjoyable ways to reset your mind in the workplace. You will discover how to switch modes and recharge by making the most of your lunch or tea break.
Applicable to everyday life
Eating mindfully is the easiest way to practice mindfulness. Did you know that you can meditate while eating? You can easily incorporate the skills of meditation into your everyday life.
Connected with team members
We can build a psychologically safe environment by eating together and meditating together. As a result of this experience, you will gain skills on how to communicate more effectively with your coworkers.
Why This is a Good Investment for Your Company?
Mental Health
Employee Productivity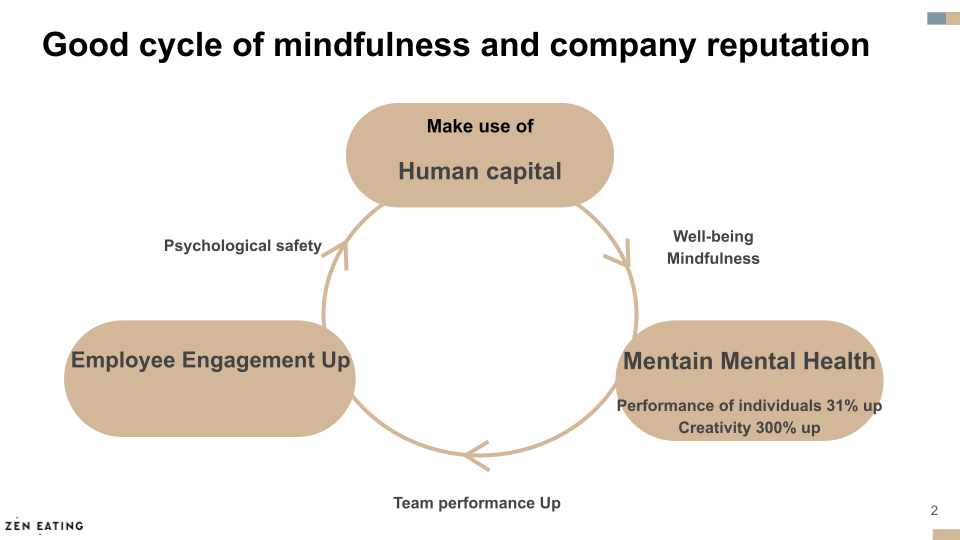 Trusted by

Attended by 2200 people
Reviewed by 230 people
4.9 / 5.0

What is ZenEating?
The Unique Online Experience for Team Events.
ZenEating Online Experience is a live, interactive activity hosted virtually by a well-being expert.
This is the perfect experience to connect and learn something new with your team, wherever you are.
You also may enjoy the authenticity as the ZenEating meditation guide is from Japan.
When is an online ZenEating experience appropriate?
-Team-bonding event
-Kick-off event
-Project completion
-Farewell party
-Anniversary event for the whole company
What Outcome Can You Expect?
-Mindfulness Skills
-Well-being Skills
-Team building
Highlights
Connect with yourself deeper
Connect with team members deeper
Peaceful and joyful energy
What Will You Do?
Connect with yourself deeper
Deeper connection with team members
Peaceful and joyful energy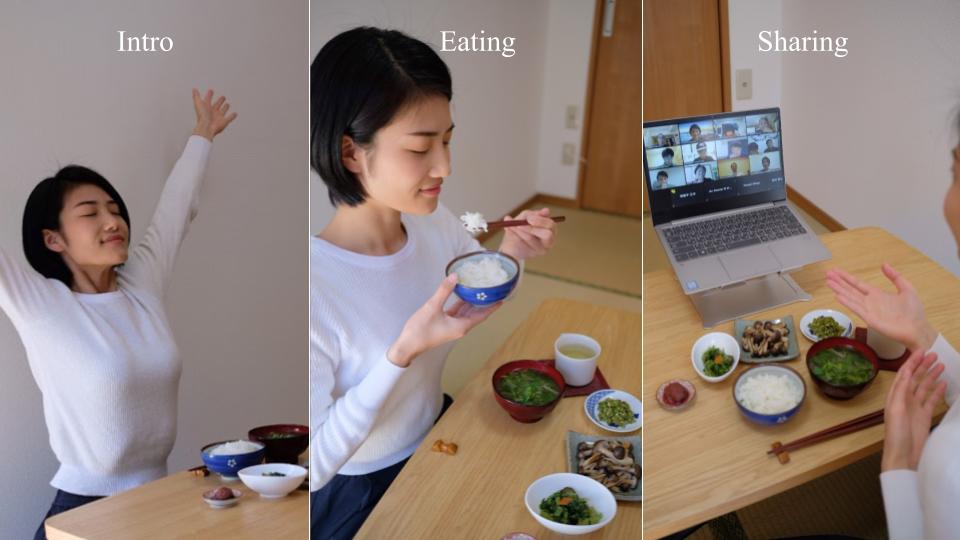 Intro
-Zen philosophy
-How to eat?
-Today's goal
Eating
-Use five senses
-Place the cutlery on the table after each bite
-Gratitude for the moment
Sharing
-Share how you felt
-What keywords popped into your mind while eating?
-Apply what you learned in your daily life
How does it work?
Online video chat, which participants can access from their homes.
e.g. Zoom, Google Meet, Microsoft Teams
In your online event, you will have a mindful eating experience.
Schedule After Your Reservation is Confirmed
Step1:We will send you an email prompting more information.
For example:
-When you would like to have the event & For how long?
-What is the occasion of the event?
-What are the objectives and goals of the event?
→Receive a message from us with all the information that you will need to invite participants.
Step2:Forward information to your employees.
For example: Zoom link, things to prepare (e.g. food)
Step3:Attend the event!
Free consultation by Video call (If your company has special requests we will arrange a video meeting with our expert)
Step4: Payment by the end of next month.
(3ステップ画像にしたい!)
ここまでStormと英語チェック済み
Who we are?
Concept
こんな
Meet Your Guide / Profile
Japan
顔写真
Recommended Tailor
Contents of this online experience
おすすめは1 hour
でも15minutes – 2 hour
option share なし
sharing and mindful communication valunerability
Why we use reset instead of refresh mind?
Meditation is reset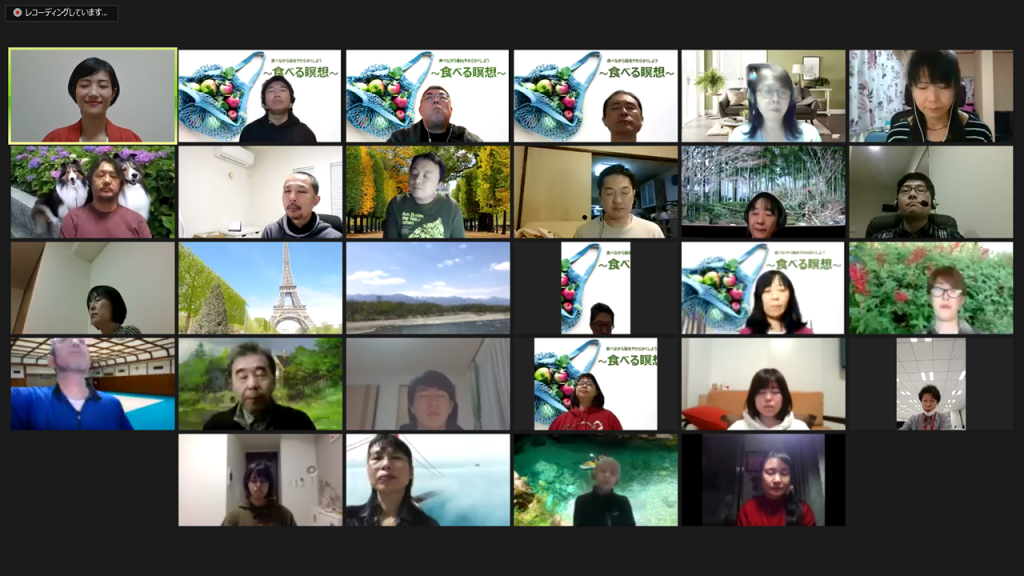 安心のために3つ Private bookings Book one or several Online Experiences with the option to customize with the host for your event needs. Hosted by experts Meet hundreds of highly reviewed Online Experience hosts and learn from their unique expertise geared towards teams. Customize for your team Tell us your goal and object so that our コンシェルジュ will plan the best content for your team. Team building Bring remote teams together to spark creativity and collaboration Celebrations Celebrate team and company-wide wins, holidays and other special occasions Client events Bring your clients together for unique and fun ways to entertain and connect
Need support for multiple events or large group bookings?
Fill out a quick form to learn moreRequest more information
Tell The Reader More
The headline and subheader tells us what you're offering, and the form header closes the deal. Over here you can explain why your offer is so great it's worth filling out a form for.
Remember:
Bullets are great
For spelling out benefits and
Turning visitors into leads.
No one will be exclude here because eating relats to everyone!
See what teams are saying about Online Experiences
Team booker, Accenture
Team booker, Panasonic
Team booker, Sales force
Why teams are using this experience?
Result
Before After
Well-being
"Mindfulness…?"


Mmm…
I heard mindfulness helps to improve concentration.
but… mindfulness classes are boring.
It's not for me.
I'm too busy and impatient to just sit down.
パターンC
What if
you can practice it while eating?
There is no meditative posture, no stillness.
No knee pain, no back pain.
What if
you don't need to add anything extra on your todo list but still can practice everyday?
パターンB
What if it changes(improves) "How you eat" radically within 1 hour?
What's included
事前に一回お打合せ
カメラ音声インターネットテスト