We are inviting your team to be part of our experience.
"ZenEating® is a lifechanging experience. We don't pay attention to the meals in today's busy world. Eating in a relaxed manner can give us a hint on how to enrich our daily lives"
We have received many comments like this.
Zen Eating is Mindful Eating Meditation inspired by Japanese Zen Buddhism.
Eating carefully, one bite at a time, with a guide, calms the mind, regulates your thoughts, and gives you a relaxing and positive feeling.
Zen Eating online had more than 2100 guests from 30 countries.
It has also been adopted as a corporate team-building and group wellness, well-being program.
We offer online workshops that are inspired by food and make you feel at peace.
Eating while sharpening the five senses makes everyday meals feel richer.
ZenEating looks forward to sharing time to rediscover the joy of eating and life with you!

All the service are provided ONLINE, like zoom session.
Book a ONLINE session for private groups. ZenEating Executive is a 1-2 hours private session.
You can come with yourself or use this for a mindful gathering with your friends and families.
The online experience for lunch break activity at your conference and webinar.
Virtual zen eating is suitable for a deep relaxation at a break time or a wellness activity.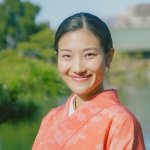 Author
Guide and Founder at ZenEating®
Well-Being Instructor & Advisor
Researcher at Chuo University, Japan 
Momoe is the author of Zen Eating: A Japanese Mindfulness Practice for Well-Being & True Fulfillment (Zen Eating: Sekai ga Mitometa Shiawase na Tabekata*, Kasama Shoin, 2023) that introduces an accessible new meditation-based practice for supporting the well-being of busy people around the world.
Educated in Japan, Egypt and India, Momoe has delivered ZenEating® workshops to thousands of participants in over 30 countries globally and her clients include companies such as Google, McKinsey, Accenture, Panasonic, Mitsui, Fujitsu, Duskin and Salesforce as well as many universities.
Momoe conducts original research into comparative happiness, Zen, Japanese culture, food-related traditions and well-being. In the past, she spent two years practicing meditation at a national yoga school in India and worked for a well-known digital cooking-focused startup in Japan.
Momoe's mission is to help individuals and organisations build a profoundly healthy relationship with food that cultivates a sense of gratitude for the natural world for world peace.
https://zen-eating.com/
Educated at:
-Graduated from Cross-Cultural Studies in the Faculty of Policy Studies at Chuo University (Studied Zen and Japanese Culture, Spirituality of Japan in the global world)
-Completed courses from Molarji Desai National Institute of Yoga by the ministry of Ayush in New Delhi, India
Worked for:
-Hoshinoya, Hoshino Resort (Wellness department)
-Cookpad (Food IT)
Audio guided meditation Zen Eating​